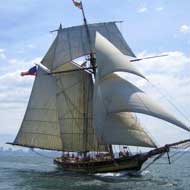 The Pride of Baltimore II was launched in 1988 after the loss of the first Pride of Baltimore, and continues the role of Maryland's Flagship and Goodwill Ambassador, promoting business and tourism in Maryland.
Like the original Pride, the Pride II is not a replica of any specific vessel, and though it represents a type of vessel known as a Baltimore Clipper, it was built to contemporary standards for seaworthiness and comfort. Designed by Thomas C. Gillmer Pride II, like its predecessor, is a topsail schooner, with two large gaff sails (one on a boom and one loose-footed), a main gaff topsail, several headsails, and a square topsail and flying topgallant on the foremast. She also flies studding sails (stun's'ls), rare on modern traditional sailing vessels. These additional sails are set along the edge of the square topsail and the mainsail, supported by additional spars known as stun's'l booms.
On September 5, 2005, the Pride of Baltimore II suffered a complete dismasting while sailing in a squall in the Bay of Biscay off the coast of France. The ship returned to port under motor power for repairs.[1]
Until 2010, the Pride of Baltimore II was owned by the citizens of the state of Maryland and operated by Pride of Baltimore, Inc., a private, nonprofit organization. Ownership was transferred to the ship's nonprofit operator with unanimous approval by Maryland's Board of Public Works on June 9, 2010.