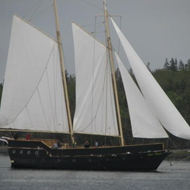 Liana's Ransom is an 85 foot, steel hulled schooner built in Houston, Texas. Construction began in 1998, but she was not launched until 2002. She was bought by the current owners in the spring of 2005 in Seabrook, Texas. She was sailed home to Nova Scotia in the fall of 2006, the 2500 nautical mile voyage taking 20 days. Originally designed as a Staysail schooner, she was converted to a gaff rigged, square topsail schooner over the winter of 2006/2007. She chartered for 3 years in Halifax, Nova Scotia before seeking warmer waters to the south.
She was built to United States Coast Guard specifications, and was certified by Transport Canada to carry 70 passengers. She has all of the latest safety features and navigation aids, and meets or exceeds all Transport Canada requirements.
Her design was influenced by the schooners typical of the Gulf of Mexico, thus she is of shallow draft and broad beam. She is rigged as a two masted, gaff rigged, square top sail schooner, typical of the type of vessels commonly used by privateers and pirates throughout the 1700′s and early 1800′s.