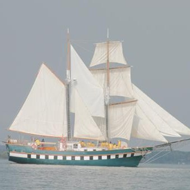 Tall Ship Fair Jeanne is a Canadian sail training ship built and registered in Ottawa, Ontario. She is operated by the Ottawa-based youth charity, Bytown Brigantine Inc. Fair Jeanne is a 110 ft traditionally-rigged brigantine of composite construction, outfitted with a Detroit Diesel auxiliary propulsion system. Fair Jeanne sails mostly on the Great Lakes, particularly Lake Ontario, and is berthed in Kingston, Ontario during the summer months.
While Fair Jeanne's summer port is Kingston, she was built by the Fuller family in the backyard of their Ottawa home. Fair Jeanne began life as the family's private yacht, cruising the world's oceans for more than 10 years. Today, however, Fair Jeanne sails for a different cause and is leased to the not-for-profit youth charity Bytown Brigantine, which uses her and her sister ship STV Black Jack for youth sail training. In addition to summer youth voyages, Fair Jeanne also does fall and spring group trips for organizations such as the Royal Canadian Sea Cadets, Girl Guides of Canada and corporate groups. The Fair Jeanne also offers trips for people who are working towards The Duke of Edinburgh's Awards.
The length overall of the ship is 110 feet (34 m), length on deck 82 feet (25 m), and length at the waterline 72 feet (22 m). The beam width of the ship is 24.6 feet (7.5 m). The mast height is 80 feet (24 m) carrying approximately 4,500 square feet (420 m2) of sail. Her hull is constructed of a steel frame with a thick fiber glass overlay. She draws 5.5 feet (1.7 m), or 12 with the centreboard down, which allows her access to shallow docks.